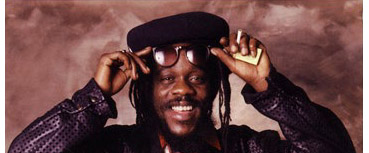 THE DENNIS EMANUEL BROWN TRUST
Biography


DENNIS BROWN

1957 - 1999

Dennis Emanuel Brown is loved second-to-none in reggae. There really is no-one who could ever take his place.

At the age of 11, Dennis Brown came to the attention of Coxsone Dodd, the legendary owner of Jamaica's Studio One record label. His first record, a cover of the doo-wop hit "No Man Is An Island", revealed him to have a talent mature far beyond his years. Listen to it today and you'll find that the phrasing and tones are still recognisably that of the the mature reggae star. "No Man Is An Island" was an immediate hit in Jamaica, and led to his first album, of the same title in 1970.

His second album, "If I Follow My Heart", also for Studio One, was named after his second major hit. Dennis Brown has arrived, but youth talents are common in reggae; he was really yet to prove himself.

Dennis' voice strengthened with use, and a series of well-remembered singles for Lloyd Daley's Matador label increased his reputation: "Things In Life" and "Baby Don't Do It" among them. Dennis' next move was to Randy's, where he cut the singles "Cheater" and "Meet Me At The Corner" and first encountered Errol 'T' Thompson, later to play an important part in his career.

Sessions with Derrick Harriott for his Move & Groove label resulted in several Jamaican hit singles and the 1973 album "Super Reggae & Soul Hits". A satisfying mixture or covers and original material, it revealed Dennis as a great writer with songs like "Concentration" and "He Can't Spell". At the time, he also cut singles with Joe Gibbs (including the original version of "Money In My Pocket") and Lee Perry (unissued). Dennis was a respected youth in Jamaica, but a new relationship was to become the one that lifted him to reggae superstardom.

Producer Winston "Niney The Observer" Holness had been in the music business for half a decade with varying success. His single "Blood & Fire" was the biggest selling record in Jamaica in 1971, but he had failed to follow it up effectively and was looking for a voice capable of matching his raw, unique rhythms and had been working as a 'fixer' for other producers in Jamaica. It was he who had brought Dennis to Joe Gibbs for "Money In My Pocket", and Niney eventually persuaded Dennis to record directly for him. The results were sensational. A selection of singles between 1974-76 made Dennis and Niney the voice/producer team of the era: "Westbound Train", "Cassandra", "Moving Away", "Yagga Yagga", "Ride On Ride On" (with Big Youth), "Wolf & Leopards", "Here I Come", "Silver Words" ... the list is incredible. The album "Just Dennis" remains available today, as does 1977's "Wolf & Leopards". While Bob Marley had the commercial end of reggae sewn up, Dennis' voice was the most popular with the roots sound systems.

In the mid-seventies Dennis renewed his acquaintance with Errol T, who was now Joe Gibbs' production partner. With a different, more modern sound than Niney's, they began to put together an equally impressive catalogue of material with Dennis, including the albums "Visions" (1976), Joseph's Coat of Many Colours (1978), "The Best Of" (1976), "Words of Wisdom" (1979), "Spellbound" (1970), "The Best Of Volume 2" (1982), "Yesterday, Today & Tomorrow" (1982), and "Love's Gotta Hold On Me" (1984). In 1978, Dennis' recut of "Money In My Pocket" became a huge UK hit, and in 1983 a further hit arrived with "Love Has Found Its Way".

At the end of the seventies, Dennis bought a house in London and began to spend as much time there as in Jamaica. He became heavily involved with the UK's Lover's Rock scene through his DEB Music label, and he gradually began to record less in Jamaica. Notable exceptions were the hit singles like "To The Foundation", cut in 1979 with producer Gussie Clarke, the massive single "Revolution" for Sly & Robbie, and a couple of tracks for Tads, "Satisfaction Feeling" and "Wild Fire" (with John Holt). Still albums arrived at a rate of more than one a year, amongst them "Judge Not" with Gregory Isaacs for Gussie Clarke, and the excellent "Slow Down" (1985) for Prince Jammy.

Dennis' biggest impact on the second half of the eighties came with the all-digital album for King Jammy, "The Exit" (aka "History") and although he continued to tour, it seemed that he was gradually allowing his career to wind down. 1988's "Inseparable" sold well, as did 1989's "Good Vibrations", but neither were among his best works. An indication of what was to follow came with "Death Before Dishonour", a searing modern roots single for Tappa Zukie, although at the time it seemed an isolated return to his real form.

Finally, in the summer of 1989, the news hit that Dennis was recording with Gussie Clarke at Music Works, Gussie's new technological epicentre of digital reggae. The first result was "Big All Around", a monstrous duet between Dennis and Gregory Isaacs and a massive hit in all of reggae's capital cities. The duet album, "No Contest" was a massive seller, and everyone held their breath for Dennis' solo album, which at last arrived in 1990 - "Unchallenged". The title said it all: this was Dennis at the top of his form, powering through tracks that stand as his best collection for years.

Back at grass-roots level, Dennis Brown was once again the Sound Systems' favourite artist: exclusive dub plates bearing his voice were now going for hundreds of dollars, and Dennis looked to rule the nineties. True to his art as ever, Dennis Emanuel Brown had shown again that he was indeed the 'Crown Prince of Reggae'.



Return to Home Page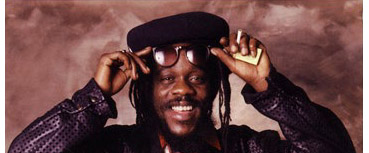 Copyright © 2003. All Rights Reserved